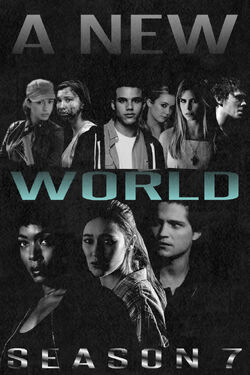 Developer

JtheAplhabetBoy

Based On

The Walking Dead
Fear The Walking Dead

Seasons

7

Episodes

78
A New World is a tv series based off AMC's The Walking Dead. The cast includes Shiloh Fernandez, Angela Bassett, Jennifer Carpenter, Thomas McDonell, Alycia Debnam-Carey, Emma Bell, Maika Monroe, Grant Gustin, Rutina Wesley, MacKenzie Lintz, Victoria Justice, Chris Pratt, Charlie Carver and Mare Winningham.
Episodes
Season 5
Season 6
Season 7
Season 8
Main Characters
The following list is not including series regulars, only main cast members. Characters are added here by when they join the main cast. For a list of Characters, go here.
Rumored Future Cast
This section is the announced main cast list (Including Series Regulars) of future seasons. It is not finalized until the season is written.
Season 9
Angela Bassett as Maura Knight
Alycia Debnam-Carey as Vivian Lox
Scott Porter as Nathan DeVries
Rutina Wesley as Kaya Dutch
Billie Lourd as Jane
Katelyn Nacon as Veronica Franz
Ian Harding as Nathan DeVries jr.
Bob Morley as Aiden Brookes
Johnny Galecki as Shepard Reedus
Austin Nicols as Peter Rappid
Anna Camp as Cleo Macen
Season 10
Rumored to be a "New Generation" beginning.
Alycia Debnam-Carey as Vivian Lox
Katelyn Nacon as Veronica Franz
Bob Morley as Aiden Brookes
Major Characters
Opening Sequences
The Opening Sequences for Seasons 1, 2, 3 and 4 were all made of landscape shots with the main cast names appearing, some with multiple names to a card. Seasons 5 and 6 were just a simple title card. Season 7 featured a spinning globe with the cast members names fading on. They can be found on the Youtube channel belonging to JtheAlphabetBoy.
Trivia
Originally, Mike was going to die in the season 2 mid-season finale instead of Abbie. Victoria Justice said it would impact Mike more.
Jennifer Carpenter wanted to leave the show in season 3 but returned for a few episodes in season 4.
The creator was asked who would die out of the current main cast. He said, "Mike, Zack, Marco, Shadow, Jane, Heath, Kaya, Brandon, Dean, Kyra and many more characters that are coming in soon."
The cast of infections wasn't supposed to join the show.
Several people were series regulars for short times.

Mitchell had appeared in four episodes.
Cissy was listed for 2 episodes.
Ginger was listed for seven episodes she appeared in.
Gary Hughes was in five episodes.

In Season 6, it was said there was only going to be 10 episodes.
Season 7 went back to some series regulars in main, the rest in also-starring.
Season 7 will have less main cast deaths.
Ad blocker interference detected!
Wikia is a free-to-use site that makes money from advertising. We have a modified experience for viewers using ad blockers

Wikia is not accessible if you've made further modifications. Remove the custom ad blocker rule(s) and the page will load as expected.